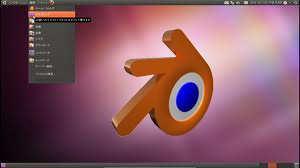 My Socket478 machine will be installed Ubuntu and is mainly going to be used for Blender that is the endless study joyful 3DCG software.
Not English one yet, surely regret if I did it.
Ubuntu…
Just feeling like the time OSX10.3 released then I bought iBook.
I miss Win2K a bit now, so long !
我が家の動かなくなってしまった古い古いマシンを何とか修復し、フリーの3DCGソフトを動かしたいと、Linuxベースのオープンソース、UBUNTU という OS のインストールを試みていますが、マシンがひ弱すぎるのと、ハードディスクが傷だらけなのとで、なかなか想うように事が運んでくれません。
「UBUNTU」とは、アフリカの単語で「他者への思いやり」や「皆があっての私」といった意味を持ちます。
2年ほど前から注目していましたが、「今回はこれ!」と感じさせられました。
ちょうどマックの OSX がリリースされた時のように。
Win2K には少し後ろ髪を引かれますが、長いことありがとね。