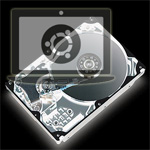 Maybe that coursed by CD/DVD drive writing or reading fail I guess.
But even from USB installation was not accepted.
How many times I was said "Sorry !" by Ubuntu10.10 ?
OK, you will see the Low Level Formatted HDD next time !
P.S.
The HDD had too much damaged so far, I made it back to usable several times by the Low Level Format.
But it does not work anymore.
Not by Ubuntu fail I believe, sorry !
Ubuntu のインストールが何度やってもエラーになるのは、ハードがことごとく古いからと知りつつ、あらゆる方法を試みています。
USB経由でインストールとか。
次回はハードディスクを物理フォーマットしてから。