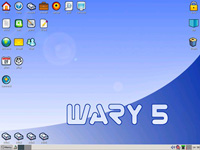 I use the Ubuntu 11.04 and Lucid Puppy 5.2.5, arrived to follow Wary Puppy 5.1.2.
Primarily for use in Blender 2.58 on my legacy machine, this option now.
Because the OS default is used to Alt + RightClick is frequently used hot keys, I had to customize it on the Blender.
I am a newbie Linux.
私は Ubuntu 11.04 と Lucid Puppy 5.2.5 を試用して、Wary Puppy 5.1.2 に辿り着きました。
私のレガシーマシンで Blender 2.58 を主に使うため、この選択肢になりました。
頻繁に使われる Alt+RightClick ホットキーがOSのデフォルトに使用されているため、私は Blender 側でこれをカスタマイズする必要がありました。
私は Linux 初心者です。