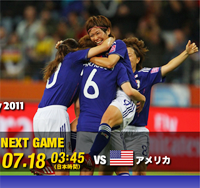 "NADESHIKO" is a kind of endemic flower in Japan and means basically dignified beauty, but I found onother meaning that "loving women".
Now, the Japanese soccer team, "Nadeshiko Japan" is called, has enlivenning newspapers.
They will be playing against the U.S. on The Women's World Cup soccer finals.
It would be a good game.
Nippon! Cha Cha Cha!
「なでしこ」は日本固有の花で、凛とし清らかな美しさの日本女性を表す言葉としてしばしば用いられますが、「愛している女性」という意味があることを知りました!
サッカーの女子ワールドカップ決勝に進出し、アメリカと対戦することになった「なでしこジャパン」が新聞を賑わしています。
良い試合になることでしょう。
日本! チャチャチャ!