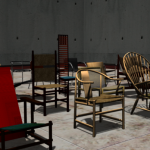 The Dashboard sign tells me that WordPress 3.1 is available now.
Not gona do this up while, just for "Lightbox 2″ plugin.
How come the plugin sleep only for IE ?
You will be come soon, I believe.
The left image ?
It is a cut in a movie made by Blender2.65a today.
I regret a lot that I had being out of practice long time.
Anyway,
how can I say something for the earthquake that was the biggest in Japanese history ?
Mmmm !
WordPress のダッシュボードがバージョンアップを告げていますが、今回はお気に入りのプラグイン「Lightbox 2」を生かしたくて見送ることに。
左の画像は、今日作った 3DCGムービー の一場面。
Blender はやはり素晴らしいソフトでした。
長いこと履修から遠ざかっていたことを後悔してしまうほど。
 
それにしても、
あまりにも凄まじい地震のニュースに言葉を失います。
何ということでしょう!