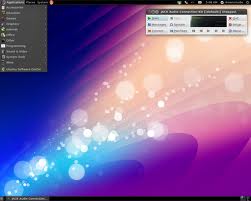 Recently, I tried "Dream Studio" of Linux on the DVD.
The Ubuntu 11.04 based OS came on the screen with the beautiful sound, I felt that the operation itself was very stylish.
Though I knew that the original Ubunt11.04 does not work well on my legacy machine few months ago.
But my heartstrings were beaten by the distribution !
先日私は DVD上で Dream Studio という OS を試してみました。
ubuntu 11.04 base のそれは、美しい起動音と共に立ち上がり、操作すること自体がとてもお洒落に感じられました。
私のレガシーなマシンでは、ubuntu 11.04 が軽快に動作しないことを理解しています。
インストールさえ正常に終わりませんでしたから。
でもこのディストリビューションは、私の琴線に響いたのです。