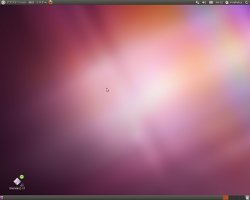 Yes, NVIDIA was covered few days ago that is why I could make it.
WinFast 170 DDRT came back from my chest and I am so happy to see UBUNTU !
I changed back to Classic Style with no effects after using Unity-2D anyway.
Installed GIMP, Inkscape, Blender2.49b, Blender2.57b, Bluefish.
So how can I change Blender's Icon ?
数日前 UBUNTU の新バージョンに NVIDIA の多くがサポートされたおかげで、我が家のポンコツPCが復活しました。
ビデオカードが古いので新しいデスクトップの「Unity」は使えず、試しに「Unity-2D」を導入して雰囲気を味わってみましたが、結局クラッシックスタイルのエフェクト無しに。
とりあえずインストールしたのは、GIMP、Inkscape、Blender2.49b、Blender2.57b、Bluefish ですが、想っていたより重いです。
ところでアイコンの変更はどうやるの?